Now Available!

Texas Guardianship Manual, 2022

E

d.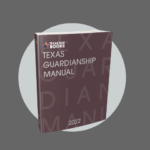 The Texas Guardianship Manual is a valuable resource for lawyers administering guardianships. It is organized by a logical sequence of events that occur during the administration process. Its uniform format of 16 chapters of practice notes and 220 forms is designed to enhance readability, improve ready reference, and accommodate easier word-processing use of the forms.
The 2022 edition of the Texas Guardianship Manual includes updates to the practice notes and forms to conform to statutory and case law updates. This new edition also includes:
Updates to the practice notes to reflect amendments to the Disciplinary Rules of Professional Conduct, including new rule 1.16 addressing client incapacity

New discussion on the statutory process for designating essential caregivers for visitation in long-term care facilities

Discussion of the revised disclosure rules and corresponding Rule 11

A

greement

Expanded discussion on fraud, abuse and exploitation of the elderly or disabled, and the duty to report

Discussion on requirements relating to mediation of contested guardianships
Save time and money with the Texas Guardianship Manual in the format that suits you best: online subscription, digital download only, or hard copy plus digital download.
CONSIDER GOING PAPERLESS AND SAVE!
Both the digital download and Texas Guardianship Manual Online include everything the hard copy has to offer, including downloadable and editable documents, without the bulk of a physical book. The digital download is saved directly to your computer, whereas subscribing to our affordable online option gives you the flexibility to work wherever you want.
What's the difference between the digital download and the online subscription? Read our Knowledge Base article here.