State Bar of Texas—Referendum Vote
---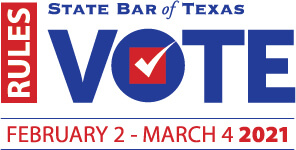 In its continued work to provide resources and foster change in our profession that help you better manage your practice and improve services to your clients, the Law Practice Management Program encourages you to consider and vote on each proposed rule change in the pending referendum, held through 5 PM CST March 4. Vote online here, or learn more at texasbar.com/rulesvote.
Rules that particularly address issues for practice management include:
Proposed changes to the Disciplinary Rules of Professional Conduct:
Ballot Item B, Proposed Rule 1.05(c)(9): Confidentiality of Information – Exception to Permit Disclosure to Secure Legal Ethics Advice.
Ballot Item D, Proposed Rule 6.05: Conflict of Interest Exceptions for Nonprofit and Limited Pro Bono Legal Services.
Ballot Item E, Proposed new Part VII: Information on Legal Services (Lawyer Advertising and Solicitation).
Proposed changes to the Rules of Disciplinary Procedure:
Ballot Item H, Proposed Rule 13.04: Voluntary Appointment of Custodian Attorney for Cessation of Practice. Find additional resources that explore the topic of succession planning here: LPM - Succession Planning
The text of each new rule proposed and summary with pro and con arguments are slated to appear in the February edition of the Texas Bar Journal and summaries with FAQs and other information is available online at: https://www.texasbar.com/AM/Template.cfm?Section=rulesvote&Template=/rulesvote/home.cfm

An informational video discussing the rules referendum process is provided by the State Bar at this link: https://www.youtube.com/watch?v=BQ_TWRw8ldI&feature=youtu.be
An online Public Forum including a webinar with summaries of the rules followed by a live question and answer session will be held on February 9, and registration is accessible at this link: https://texasbar.zoom.us/webinar/register/WN_KZPXQvvuQ8WEse3ljwwMnw
Previously recorded Public Forums are also available at: https://www.texasbar.com/AM/Template.cfm?Section=rulesvote&Template=/rulesvote/vendor/publichearings.cfm
Broad participation in this vote for or against each proposal may be essential for us to retain self-governance of our profession and should not be wasted. Thank you for your consideration and participation in the vote.
---
The information provided and the opinions expressed in this monograph are solely those of the author. Neither the State Bar of Texas nor the author are rendering legal, accounting or professional advice and assume no liability in connection with the suggestions, opinions, or products mentioned.
---